Scoraig is a secluded peninsula in the beautiful Scottish Highlands, one of the last wildernesses of Europe. There are no roads, and access is along a three-mile foothpath meandering above the rugged coast. Scoraig lies between Loch Broom and Little Loch Broom, to the west of Ullapool and 70 miles northwest of Inverness. There are hills to be climbed and lakes to be discovered, and the wildlife includes otters, seals, wild goats, red deer, and eagles. The peninsula is dotted with windmills providing electricity to some 30 scattered households. Residents include a violinmaker, boat builder, pony breeder, potter, weaver, and many wonderfully eccentric folk.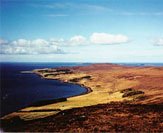 Shanti Griha, meaning House of Peace, is set in two acres of magic garden, at the foot of Ben Ghobhlach (635 metres), and 300 yards from the seashore. Shanti Griha was established in 1999 by Brian and Kathrin Cooper. Since then, hundreds of people have stayed here and discovered the value of living close to unspoilt nature and the joys of fresh air, pure water and tranquillity. Spending time at Shanti Griha is like going back in time to a slower, more leisurely lifestyle.
Accommodation: The charming croft house has five bedrooms (singles, double, twin, triple), two bathrooms, a large and bright studio for meditation, music and yoga, an open kitchen and dining room, and a cosy living room with an open fire and library. A cabin in the woods sleeps one to two and has spectacular panoramic views of the mountains. Our electricity is generated by a windmill and the house is centrally heated by a Rayburn.

Food: Shanti Griha is blessed with its own spring, providing us with pure water. Food is very important to us. We are aware of the effects of food additives and environmental pollutants on health. Meals are prepared fresh every day. Our raw ingredients are highest quality organic and where possible locally sourced, Scoraig being a totally organic farming area. We bake our own bread, cakes and biscuits. All food is vegetarian or, if requested, vegan, and we also cater for guests with special dietary needs, provided these needs have a medical or ethical reason.

We have a Programme of Set Courses and Retreats which take place between spring and autumn and are limited to 8 participants. Over the years we have run courses in Astanga Yoga, Yoga Teacher Training, Traditional Thai Massage, and Dry Stone Dyking in addition to the courses we continue to offer. We welcome other teachers who would like to organise events at Shanti Griha on their own or in conjunction with us.

In addition, we welcome guests for Stays of any length which can be arranged outside and sometimes alongside the set dates, to practise Meditation, Yoga, Tai Ji and Qi Gong, Vegetarian and Vegan Cookery, or to go hiking, help with cooking and baking, chopping wood and gardening, or to simply be and rest.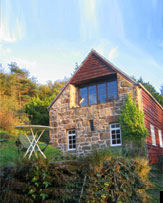 More Photos


Visit our Gallery

Group reservations



| | | |
| --- | --- | --- |
| | | We charge £65 per night including all meals, bedding, towels, the use of all our facilities, and meditation guidance if required. Tuition in Yoga, Tai Ji and Qi Gong and Vegetarian Cookery is charged extra. |


Contact us: